Arlene Taylor revisiting - Nov 2020 - Cancelled!!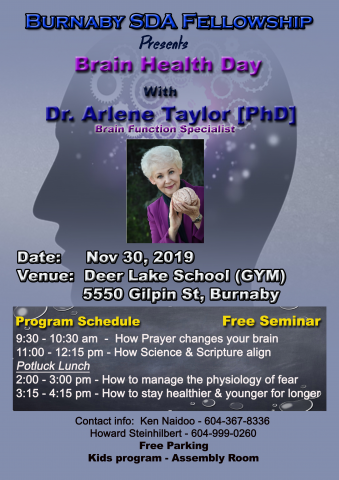 NEWSTART - Healthy Lifestyle Program
A Worldwide renowned phenomenon 
Real Results with the NEWSTART Lifestyle
Reduced death rates from many types of cancers
Reduced rates of coronary heart disease
Reduced rates of obesity
Reduced rates of diabetes
Increased mental acuity
contact us today to learn more and set up an appointment.
NEWSTART - 8 Steps to Health Healing & Hope
Choosing  the Newstart healthy lifestyle program  can significantly reduce your risk of heart disease & stroke.
More about NewStart  [This is a internet link for more info]
[ for local contact, call Ken 604-367-8336 or Howard 604-999-0260 or Roy Johnston 778-839-3141